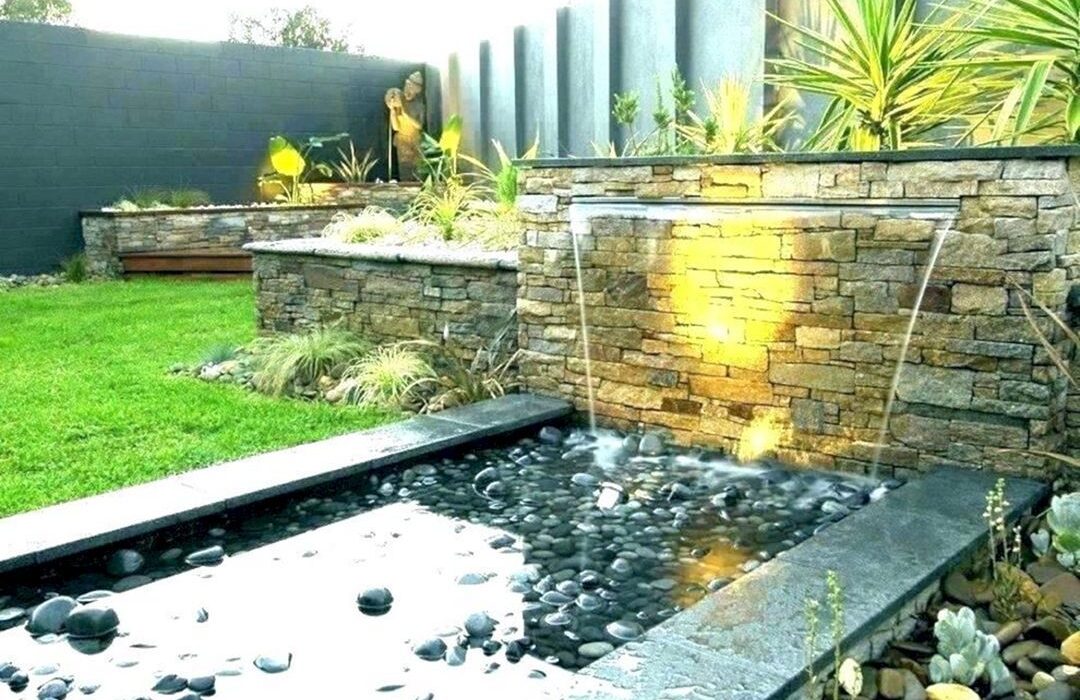 It's relatively easy to bring the soothing sound of a babbling brook to your own small garden. With a few simple tools, you can create a cascading water chain or an in ground pond. Water features have a big impact on any outdoor space, and while they may require a lot of initial elbow grease for installation, fountains and pools pay off big in property value.
If you're new to water features, there are plenty of simple designs to get you started, such as stacked pots and birdbaths. If you're a connoisseur looking to build an elaborate addition to your landscaped yard, you'll find this article covers water walls and koi ponds. Water features are a versatile addition to every patio, yard, or garden; discover yours here!
What You Need to Know
Create your own spa with a reflecting pool and bring a little zen to your den with bubbling rocks. When it's too hot for the commercial playground equipment, but you can't stay inside another day, you need a cool way to enjoy your own backyard. Learn about all the fantastic water features below.
Water Fountains – the traditional water fountain can be engineered in brass, cement, or stainless steel. The biggest factor in choosing a fountain is size, since you don't want a spout that overpowers your space. A creative DIY approach can feature fountains within pots and buckets, not just the common pond. You can even pair lights with your fountain for beautiful effect.
Bubbling rocks – The bubbling rock design imitates nature, with mismatched stones stacked together. Assembly requires a hole to be drilled through the stack; then, water will trickle down the edges of the stones into the bed and be pumped back to the top. This is an excellent DIY project for a beginning water feature designer, as it relies on an imperfect, natural appearance for its charm.
Peaceful Pond – If you are looking for the serenity of a reflecting pool, without the gurgling interruptions of a stream, then a pond may be the choice for you. While a shallower pool provides better reflection, bear in mind that shallow water also attracts mosquitoes. Ponds require cleaning to maintain clear water.
Koi Pond – The traditional koi pond is an aesthetic prized in elegant gardens worldwide; however, it is difficult and expensive to install. The pond and its beautiful inhabitants bring incredible beauty and value to any property, but maintenance is costly. Expert installation is recommended.
Spillway Bowl – The spillway bowl feature is a pondless design that showcases water steadily flowing from one large bowl to another (or several in a row). This provides a soothing ambiance for designers who aren't searching for loud, splashing water sounds. It's also a low maintenance choice for homeowners.
Bubbling Rocks – Everyone loves the sound of happy, bubbling water; creating your own bubbling rock feature is easier than you might think. Select any container – a pot, a barrel, a galvanized tub – and drill a hole through the bottom. This will allow you to discreetly hide the pump beneath the wire mesh at the top. Next, scatter rocks over the mesh, until it appears that rocks have filled your container. Now, when the water spills over the container, onto the pad, and is pumped back up again, you'll have bubbling rocks.
Water wall – Transform your old school brick wall into a cascading façade with a water wall. You can install a simple perforated tube along the length of your wall, flowing into a pool, or buy a premade standalone unit from a designer. Water walls are inherently peaceful displays, vertically showcasing water and adding a meditative ambiance to your garden.
Birdbaths – While birdbaths may seem like a tiny addition after all the grand designs featured in this article, never underestimate the hours of entertainment to be had from a simple water basin. When your fine feathered friends arrive, their antics will add delight and beauty to your garden. You'll be glad you spent your money on quality over quantity with every song and splash from your birdbath. There are many decorative birdbaths on the market, carved from stone and glass; you are sure to find one that you love.
Splash pads – It's not difficult to bring the kids into the backyard with a simple in-ground fountain spout and Splash Pads! Skip the sweltering at the local picnic shelters and have a party in your own backyard. Enjoy the serenity of the water in the morning and be grateful for the happy shrieks all afternoon. When your garden needs to be as flexible as you are, look for a design that is beautiful and versatile.
What Are You Waiting For?
A water feature is the best way to elevate your landscaping. Raise your garden from a simple flower bed to a zen wonderland with a bubbling rock fountain or a soothing water wall. Create the oasis you crave with a reflecting pool or do yoga beside the spillway bowls you installed yourself. Whichever you choose, you can be confident that your investment will impress your guests and increase your property value. More importantly, you'll be excited to go outside every day and relish the beauty of your own backyard.