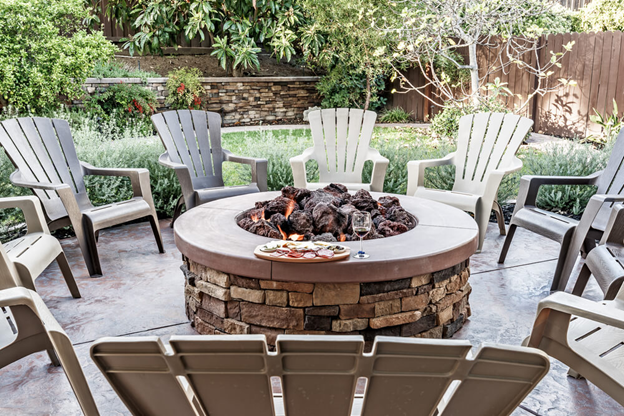 Having the right patio can truly transform an outdoor space, no matter whether you live in an urban setting or a country village. Such a change should be at the top of your to-do list, whether you're redesigning your garden space complete or looking to add a touch of new.
Make sure to read on below for some expert advice from Sansums Sand & Gravel, leading providers of Paving Chippenham, to help you bring your patio to life and create a space you can be proud of.
Where Would You Like to Pave?
First things first, when it comes to creating a patio, it's important to know exactly where you want to pave.
When choosing a space, keep in mind that you'll want an area that is easily accessible and weatherproof, simply to ensure that you will gain maximum benefit and usable from the plot.
It's also important to consider that you will enjoy your space much more if you are not overlooked, so choose somewhere private, or at least where you can easily bump up the privacy with some screening.
Screening doesn't have to look garish, you can use trelliswork and climbing plants to create some green privacy around the paved area.
When deciding on your space, it's also important to be considerate of your neighbours. Don't block their light, and make sure that drainage off your patio is adequate, as the last thing you want is water overspilling into their garden.
Pathways
If you've found that the best spot for the job is midway down your garden, you'll also likely need to look into laying some pathways to allow for easy access.
What's the Purpose?
Taking the time to consider what the purpose of your patio will be can be key in terms of ensuring that all of the tiny details are right. Make sure to take a moment to consider;
Do you want your paved area to create a seamless transition between your home and garden?

Do you want the patio to be in a sunny spot or can it be shaded?

Do you want your garden to be more patio than grass or the other way around?

Can you soften the patio's edges?

Will your patio space be large enough to fit garden furniture?

Do you want an outdoor kitchen?

Can the paved space be used by children?
Don't Be Scared to Experiment
Now you've decided on the perfect place and the ideal size, try laying out lengths of string to work out whether the dimensions you've decided on are right and will suit the space you have.
Even if you believe that you're set on the size you've chosen, this will help you to better visualise how your garden will look once the paving is complete. You never know you might surprise yourself and have over or underestimated the space completely!
How Big?
Now you've decided on the size of the overall space, you need to consider how big you want the paving slabs to be. Using smaller slabs can make it look as though you have a much bigger patio than you do, however, over a big area, larger slabs will be much more cost-effective.
Smaller slabs will look much more traditional, creating the perfect look for cottage gardens, whereas large white slabs can create a stylish, modern look.
Matching your Home
No matter what landscaping or internal structures you're creating, you should always try and reflect the overall look and style of your home, to ensure that it all blends seamlessly into your garden.
You can achieve this by matching the colour of your patio slabs to the outside of your home. For example, if you have a red brick home, laying a paving slab in a similar coloured sandstone will work well, or if you have light, modern rendering, match them with a silver-grey granite for a striking look.
What About Outdoor Lighting?
Looking to create the perfect atmosphere? Some soft outdoor lighting will look great.
Solar-powered lights can be an ideal option, particularly if you're looking to avoid the hazard of trailing wires.
You'll find that solar-powered lights come in a range of varieties, including those which will hang in branches, on a trellis or around a table.
Should you be looking for brighter options, make sure to call in a qualified electrician to install power and bright down-lighters.
Final Touches for your Perfect Patio Space
A paved garden space will not only be a joy to look at, but it will also be a great space to be in.
Add some garden seating and an awning or a garden umbrella to make sure that should the weather turn, you're protected.
Should you like to add something for the evenings, a chiminea or a fire pit can be a great choice, or you could consider a BBQ which will be ideal for family meals and entertaining friends.