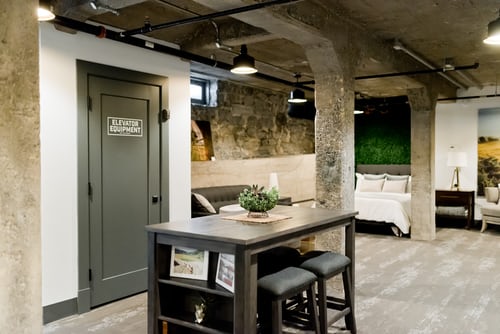 Remodeling your house is something that everyone is looking for but is scared of doing so because of the busting budget. With some strategic redesigning, you can create something creative. The first thought of home renovation is that either you are doing this from scratch or touching the required ones only. After clearing this thought, granny flats can help you plan and design home renovation in a cost-efficient yet creative manner. Let's discover some home renovation ideas!
Perfect natural lighting: Good lighting changes your mood, efficiency, and productivity. Though you are renovating your dream house now, try bringing in natural light. Sun rays give you rays of new beginnings. So, let the positivity reach inside your house. Consider less expensive methods of catching light before making a large hole in the side of your house and changing the framework.
What if there's no space for windows to take in natural light? When it comes to light fixtures, simply replacing any bright white bulbs with calming yellow bulbs will drastically transform the mood in your home. To ensure that your new bulbs endure a long time, choose LEDs. Install dimmers in place of current light switches to control the brightness in each room according to your mood and the time of day.
Out with the old! It's time to donate your trash. Invite your local homeless shelter to remove materials and items for later resale before you start rebuilding. It is said that about 85% of a house is recyclable. We can either undertake a complete reconstruction or cherry-pick the cabinetry, tub, sink, and other items. This way, you aid a worthy cause while also saving landfill space and get a charitable tax credit for your donation.
Changing the cabinet and doorknobs: Style up your cabinets with eye-catching knobs. You can change the pulls yourself in a matter of minutes.
Seeking out help from an architect: Depending on the scope of your project, you may not require a complete architectural commission, which involves many meetings, job-site visits, and multiple sets of construction drawings and costs roughly 8% of the project's construction budget. Rather, you can benefit from an architect's design expertise such as granny flats by hiring them for a one-time design consultation.
Is there any unused corner? Use shelving to make the most of underused corners. Every home has a nook or corner that we don't know what to do with. Installing some simple floating shelves, which provide you with more storage space while still looking wonderful, is a simple DIY solution. It takes a little woodworking, but it's well worth it to transform an unused corner into a focal point.
Give new life to your old furniture: If you're tired of your old furniture but don't want to spend the money on new, then renovate your existing pieces. Painting, refinishing, and adding shapes and decorations with adhesive contact paper are just a few of the imaginative ways to give antique furniture a new lease on life.
Bringing technology in home: Why not take advantage of all that technology has brought to home renovations? There are a variety of smart home technologies, ranging from self-programmable thermostats to camera-enabled doorbells, that smoothly integrate into your current wiring and systems while transforming your house's energy efficiency and design.
Are your frying pans…fried? Upgrade your cooking utensils. A Sunday lunch could be inspired by a few new nonstick Calphalons.
A modular kitchen: A modular extension is a ready-made room that may be attached to the outside of a home to add a second floor. They're common home additions for single-story structures like ranch homes. These extensions are 10-20% less expensive than traditional home expansions and are built off-site, allowing you to avoid living in a construction zone. Depending on the size of the addition and where it goes, costs range from $80-$200 per square foot.
Expanding bathroom space: Are you looking for bathroom renovation ideas? Consider expanding your master bathroom to add a soaking tub or dual sinks. Alternatively, create a half-bath in an unused little space such as a closet, an extra utility space, or a basement.
It's all about the clock. Set timers for your living room lights so they are bright when you get up and return home.
Adding jewel to the rods: Make your rods look nice. If you never leave the house without your earrings on, we have a question for you: Are your curtain rods bare? Don't forget about ornaments – they're like window jewelry.
Make your curtains more interesting: Trim can be used by a tailor to create fast, high-impact graphic appeal! Borders, tapes, and trims include ombré fringe and velvet ribbons.
Early and decisive home renovation
If you're not quite clear about what you want upfront, you'll have to rely on your contractor's estimate, known as an allowance, and his idea of what's acceptable may differ significantly from yours. Selecting a renovation contractor like granny flats is like selecting a physician. Although it is not your body, having an expert cut open and rearrange your home is comparable to major surgery. You want to make sure the specialist is qualified to complete the task, whether you expect to stay in your house for a long time or are remodeling for a speedy sale.