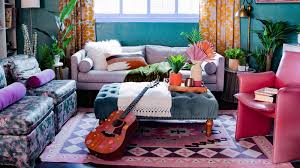 Bohemian style is all about using a mix of colors, patterns and textures. Most people embrace relaxed and aesthetic design rules to create a layered and personalized bohemian house decor. Well, the modern design bends are all about layering and laid back vibes because that's what makes the best bohemian interior.
Bohemian Inspired Porch
The porch is the perfect place to begin your house decor in boho style. It is the space that is supposed to give you the fresh vibe and feel as you step in. A high sided sofa can be a cozy spot to entertain your guests. It can also be a great corner to read books with garlands and chandeliers hung around.
Boho Living Room Ideas
Incorporating bohemian style in the living room doesn't mean you have to start from zero. All you have to do is blend it with your existing decor or consider the color palate you used for other rooms. Start with a target oen major areas. Be it wall or floor, you can use rugs, pots, candle stands etc to get started with the boho vibe. This will together help you take over the space with the right bohemian style.
Boho Bedroom Ideas
The bedroom should have bold, colorful patterns as they are a hallmark for bohemian house decor. You can incorporate boho style in your bedroom by using patterned rugs, classic throws and blankets, and even colorful cushions and pouffes. There are many ways to end up having a boho decor. All you need to do is pay attention to the patterns and colors. Pattern-like stripes are very popular for bedroom decor. But remember to stick to one common color palette for the whole room so that everything looks consistent.
Boho Kids Room
Talking about the kids room, you can be as crazy as you want with the interior. Kids room needs to be a medley of animal decor pieces because that provides the best youthful take on bohemian style. Artworks, lighting, colorful curtains and what not. Even a bright pattern wallpaper would create great impact. There is a lot you can do to decorate the kids room in bohemian style.
Outdoor Bohemian Decor Ideas
Bohemian decor is not just meant for your house interior but exterior too. As you plan to dwell into bohemian decor style, make sure you create a balance in the indoor and outdoor space. You can create a outdoor space that looks and feels perfect for relaxing in the evenings. As mentioned for the bedroom decor, you can also use cushions and rugs in the outdoor space. Floor cushions and daybeds are perfect options to optimise comfort. There are many shops for bohemian home accessories in Australia. Check out outdoor rated furniture, rugs and other accessories to complete the whole decor.
All of this comes to an end if you don't find the right bohemian decor store. To make the ghouse feel boho you should check out Barefoot online shop. It is the best place you can count on for all your boho decor needs. Turn your house boho with Barefoot Gypsy today.